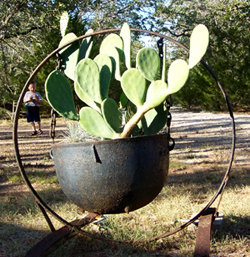 Benchley's Bunkhouse is a bed and breakfast set in the quiet area called Benchley, located just outside Bryan/College Station, Texas. It is run by Loyd and Marijane Deen.
After years in the army, Loyd earned a Masters in Computer Science from TAMU. He worked as Bryan's systems analyst until retirement. After he and Marijane retired, they moved to the Benchley property, which was a goat farm before they bought it. They've enjoyed refitting the property for non-goat life.
Marijane also earned a Masters in Computer Science from TAMU, and then worked for years as a data manager for Brazos County. After retirement, she dove into quilting. She outfitted the old goat feeding room into a high-tech quilting sanctuary, and now creates award-winning quilts and wall hangings for the fun of it.
They now spend their time woodturning and quilting with their two dogs and any family that drops in from time to time.